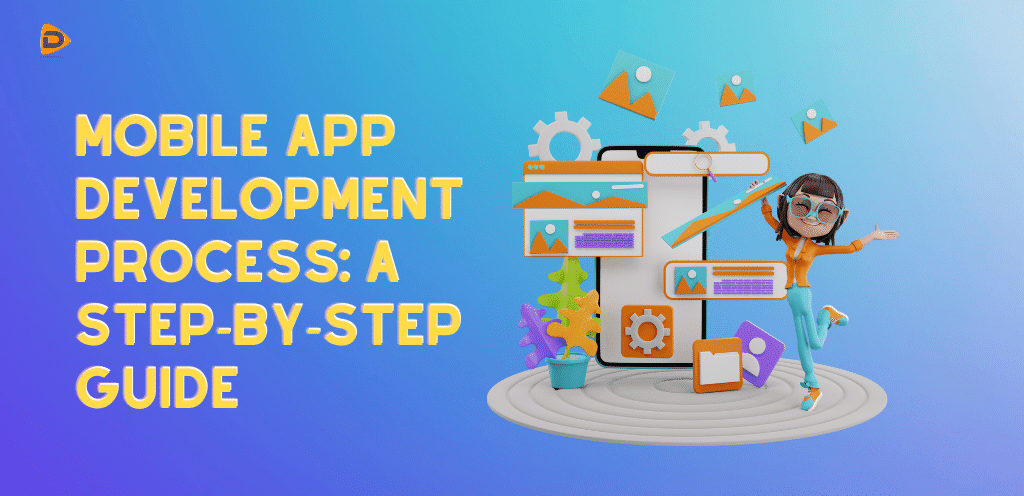 A blog about the growth and the benefits of mobile app development.
Nowadays we use Mobile apps for everything which has a big impact on our day-to-day life. Whether you need to pay using App, buy Something, need a ride, or use navigation, Social Media, and has an entirely different purpose.
We use mobile phones at home, at work, on the drive, on the street, while we are eating, and even you might be reading this blog from Mobile phones.
Mobile Apps Development is the act or process of creating software applications that run on Mobile Devices such as personal digital assistants, enterprise digital assistants, or mobile phones.
There are 3.48 million apps on the Google Play store and 2.22 million apps on the Apple App store.
So no matter what are the user requirements, the app stores have plenty of apps.
If this isn't indicator enough that you should develop an app for your business, there can't be a bigger sign.
Just Think about it: A research report state that Every day there is a minimum of 250 million or more apps downloaded. Users spend 90% of their time Using Apps.
This is encouraging news for anyone who wants to develop an app and app developers.
Why should you use a mobile app for business?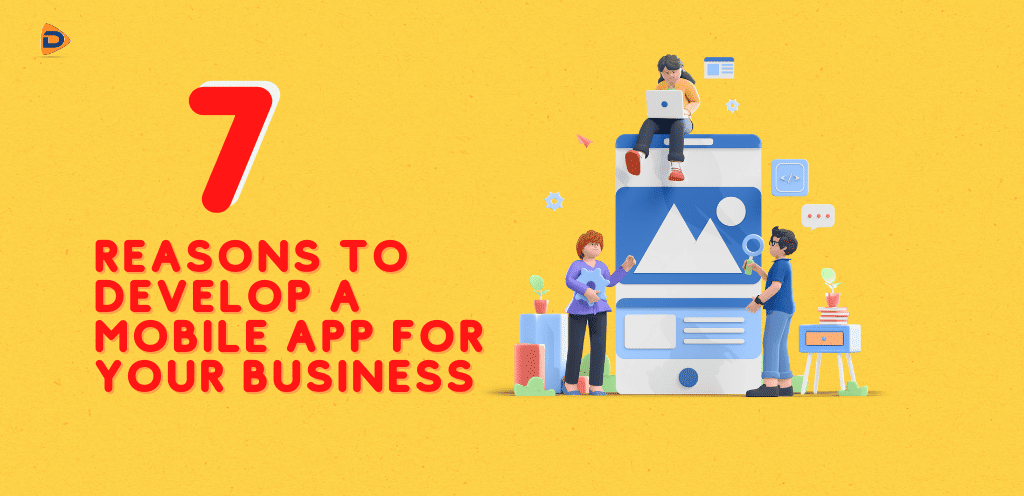 Then I want to ask you, Why should you not?
As a business owner, if you can establish your business on more platforms, then in return it will give you more benefits.
The explanation to the above question is very simple. The number of users using the mobile apps is enough reason for you to develop your business on this platform.
But that's not enough.
There are seven reasons to convince you why should you develop an app for your business
1. Target a wide area of Customers
People all over the world are using smartphones. As a result, the use of mobile apps is increasing day by day.

According to Research, People are expected to spend an average of more than 4 hours a day on their mobile phones in 2022.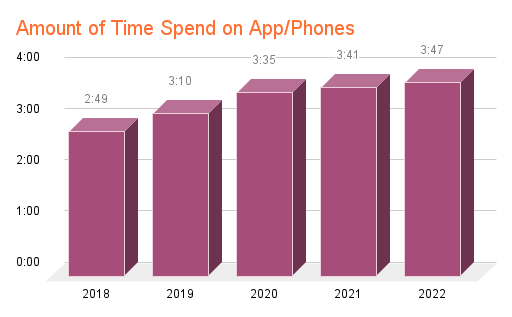 On average, a person now has more than 80 apps installed on their Mobile phones. An average person uses 9 apps per day and 30 apps every month.
Take look at how much time an average person spends on Mobile Apps, isn't a huge opportunity for the improvement of your business.
2. Create a Direct Marketing Channel
Mobile apps can facilitate communication between the company and the customers.
For businesses, Mobile apps can serve many purposes like providing general info, search elements, Booking forms, News Feeds, User Accounts, Messengers, Prices, and much more.
The user engagement rate with push notifications reaches 40%. You can directly contact your customer whenever it makes sense and shares essential information like Special Sales and promotions via push Notification.
If you have easier contact with your customers then it will be easier for you to gather their information, and hear their Experiences which will allow you to improve customer service. You can customize your communication strategy by gathering data from your customers.
3. Improve Brand Image
Those days are gone when business owners have to distribute Business cards, flyers, posters, and banners for strengthening their business Brand Image.
Now we are living in a Digital era where you can improve the brand Image of your Business smartly.
Having a Mobile App can help you strengthen your business which will also increase your Brand Image Digitally enabling you to establish customers relationship, offer the best user experience, and much more.
4. Boost Sales & Revenue
In 2023, the apps will likely generate $1 trillion in revenue via in-app advertising and paid downloads. About 98% of app revenue globally comes from free apps.
As per sensor Tower Report, iOS brings in more revenue than Android Apps.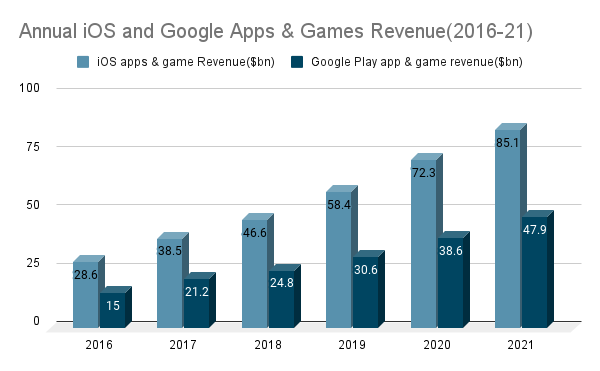 It's a tremendous amount of purchasing power, and you must know that an Increase in Sales is directly proportionate to the growth of your business.
You can benefit from obtaining sponsorship or by running advertisements on your app.
The more people are delighted with your business, the more they want to engage with your brand, and the more they will spread the word. As a result, increased brand visibility, higher customer engagement, and maximised profits.
5. Independent location of your Business
By developing a mobile app, your business will become Location Independent where you can Operate your business from anywhere and at any time.
It enables you, your employee, and your customers to stay connected across vast distances and different time zone.
6. Qualifying Analytics
By utilizing a business app, you can collect Important Data and analyze this data to understand the behaviour of your Customers.
You can understand the preferences of your customers, the time they spend on the App, the most buying products & services, which products/services are most popular and which are less popular, and much more.
This data enables you to Improve your Products/services and offer a better customer experience.
7. Cultivate Customers' Loyalty
Last but not least reason why should you develop an app for your business is to develop customers' Loyalty toward your Brand.
You should try to make a true and sincere connection with your customers and convert them into loyal ones to your brand.
You can also integrate loyalty programs and personalization to your Mobile app to share discounts, coupons, and promotions with your customers that lead them to become your Loyal Customers.
Benefits of Mobile Apps for your Business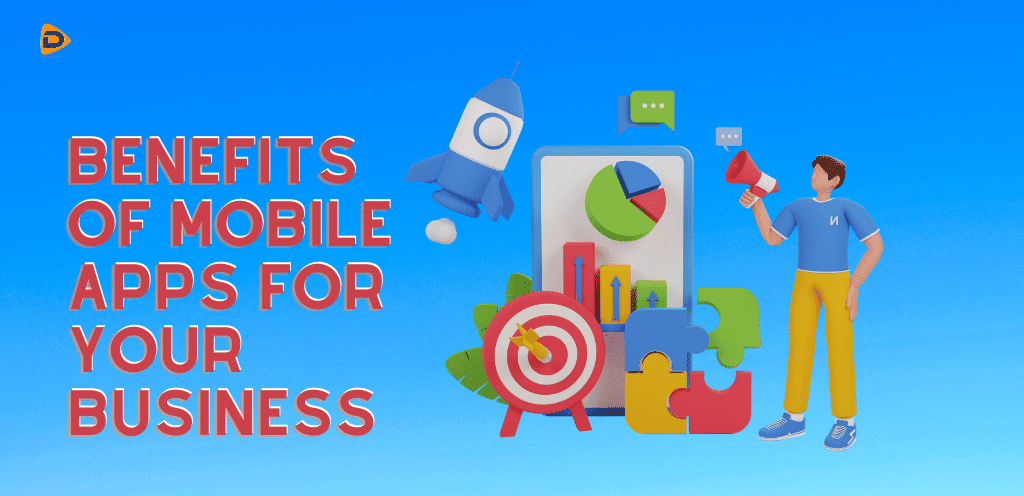 Creating a Mobile App for your Business delivers profitable Marketing possibilities and opens market reach like never before. Mobile Apps are excellent marketing tools that benefit virtually every enterprise.
These days you must have noticed that many small businesses have mobile apps like Restaurants, Beauty spas, Glossary stores, and many more.
These companies are one step ahead when it comes to their Digital Marketing.
As a Business owner, you can't neglect the Benefits of Mobile App Development for your Business.
If you still don't know why should you develop an app for your business then this guide will share some light on the benefits of Developing a Mobile App.
Mobile apps are very reliable for your business if you want to expand your business to a new level. Mobile apps work consistently with your business unless there is any issue that can be cleared out regularly.

Many Mobile Apps Developers can make extraordinary apps that can endure any issues
Mobile Apps have an impressive backup that maintains and safeguards your data. A decent mobile app development company has a responsibility to provide an App that fits with protection against hackers and other dangers from the web.
An Application can Assist You with Monitoring where you can discover who was operating at what assignment and how skillfully they carried out Issues that surfaced.
Customers experience great satisfaction when apps perform at an exceptionally fast speed. How easily they can access information about the business.
Mobile Apps provide great support for requesting and collecting feedback from customers. You can also add live chat features to your app that will not only boost the satisfaction of customers but also increase engagement with customers.
If you have other programs to maintain your business, you can add them to the current programming means you can mix them into the business server which helps in the smooth running of your business.

In other words, you can effectively utilize existing software & programming to maintain and enhance your business.
Since the mobile app is fully customized, you have the opportunity to determine what kind of technology and framework to operate and design the app.
How do you create an app that solves a specific problem?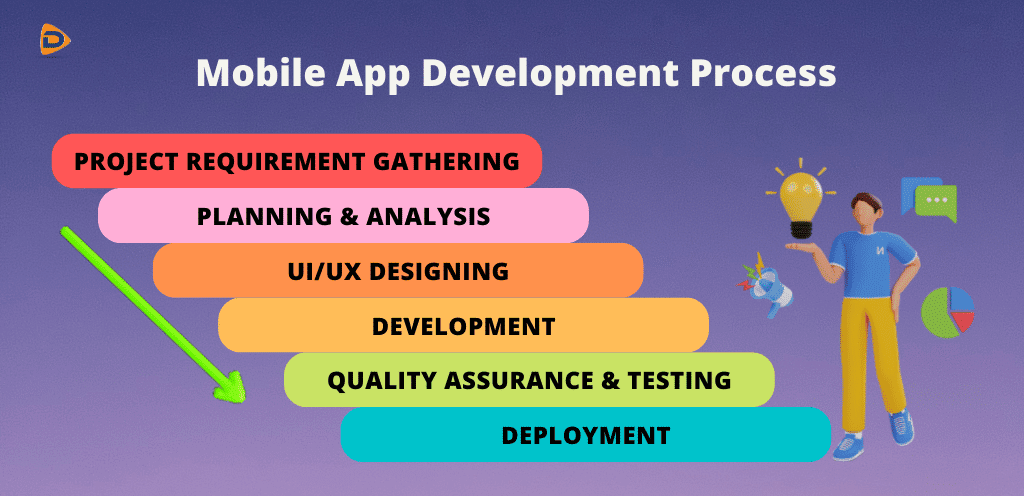 Mobile application development has gone through many phases of evaluation since it started. This is because mobile apps have come a long way from the basic apps that ran in the early to the powerful versions that today's phones can run without breaking an effort.
As a Mobile App Development Company, we have developed many Mobile Apps on Android and iOS platforms. We know every step of the successful Development of Mobile Applications.
Here we are going to describe the step-by-step Mobile App Development process and how we build our Mobile Apps step by step-
Project Requirement Gathering
Before planning to proceed, you need to answer the following questions and make sure you are going in the right direction and your Idea is worth the time and effort.
What is the Objective of your App?/ why do you want to build a mobile app for your business?/ Is it needed in your business?
Who is your target audience?/ Who are the potential customers?
What are the important features of your app?/ What is the core appeal of your app that attracts customers?/ Why should Customers use your app?
Who are your competitors?/ Do they have similar Mobile Apps?/ Is your idea better than theirs?
App development requires time, Effort, and money from you, are you ready for this?
When and how will you promote your mobile App?
Planning & Analysis
You can start planning and analysing by building a roadmap, prioritising your app requirements and dividing them into milestones. Our QA experts are involved in this phase to understand your requirements skillfully and initiate the writing of test cases for your project.
Creating an MVP(minimum viable product)
Finding the right talent and
Finding an outsourcing partner
Signing an NDA
UI/UX designing
User Interface(UI) creates a look & feel of an app and uses visual elements that allow users to interact with products.

User Experience(UX) defines the Feelings and emotions users experience when interacting with products and how the product is to be used.

The following UI/UX stages will shape your app's user interface –
Style guides
Wireframing
Mockups
Prototypes
Development
Once finalized the design you can move on to the next step which is creating the actual product and starting your app development stage.

This process covers the coding part and the actual realization of your mobile app.

The development stage incorporates activities like establishing a development environment, developing different parts of code, preliminary testing, and creating applications that can be installed and tested.

There are three aspects of any app –
Quality assurance and testing
The quality of the software is crucial for the success of any app. In this stage, Experts will find errors and bugs and then fix them in time before your customer run into them.

Every customer expects to have a high-quality, well-defined app that does not hang and crush unnecessary.

An essential part of testing includes-
Functional testing
Platforms testing
Performance testing
Security testing
User experience testing
Deployment
Before submitting, ensure that you have covered all review guidelines and checklists released by the Apple App Store and Google Play Store.

The deployment also includes-
Monitoring
Maintenance & Support
After developing an app, the next question arises-
Is it enough for the success of your business app?
No, It will never be enough for the success of your business app.
If you want the success of your business app then you have to do research and use strategy so –
Users need to download your app
Users need to use your app
The success of Your Business Mobile App not only depends on the Technical Aspects but also on Business Needs, Branding, Marketing, and Designing.
Mobile App Development is an ongoing process where you have to constantly maintain your Mobile App to ensure its performance.
Are You Looking for an Affordable & Best Mobile App Development Company in Jaipur?
If you are aiming to develop a Mobile App for your Business and hesitating because of an Insufficient understanding of the technical aspects of Mobile Apps Development.
Don't Worry! Device Doctor India is here for you to create Mobile App for your Business. Device Doctor India is the most Popular, Affordable and Top Mobile App Development Company in Jaipur.
Our App Developers always ensure you create Mobile apps that are highly engaging and Interactive.
We have performed with more than 100 businesses and nurtured them to gain a leading position on Google and other search engines.
In case You have any queries regarding Mobile App Development or how the mobile app design process works, get in touch with us.
FAQ
What is the Requirement for Mobile App development?
Mobile Apps Development is the act or process of creating software applications that run on multiple Mobile Devices such as personal digital assistants, enterprise digital assistants, or mobile phones. 

If you are looking to develop a mobile app, then you need to hire a professional Mobile App Development company. A company that will offer you high-quality apps that adhere to the best practices and programming standards
How to Upload an App on the Android Platform?
There are many ways for uploading apps on the Android Platform. Usually, you can upload mobile apps through an Application Marketplace like Google Play Store. 
We have covered step by step to upload an app on Google Play Store-

Create a Developer Account on Google Play Developer Console.
Link your Developer Account with your Google Wallet Marchent Account.

1. Create Application.
2.Add App Store Listing.
3.Upload App Bundle or APK to Google Play.
4.Add app Rating to Target Specific Users.
5.Select Price & Region.
6.Publish your app.

Once you upload an app, you just need to wait for your application to get approved.

How to Upload an App on the iOS Platform?
Before you submit an app to iOS App Store, you need a Few Things:

1. Xcode
2. A Paid Apple developers Account
3. A Valid provisioning Profile
4. App Development & Distribution Certificate

Publishing Process on the App Store is:

1. Create a new app in App Store Connect
2. Create a Product Page
3.Submit for Review
4. Publish
What is Native App Development? 
Native apps are built on the operating systems (OS) for a specific mobile device. So you can have Native Apps on Specific Mobile platforms like Google Android or Apple iOS not to mention all the other platforms and devices. 

Because they're built for specific platforms, you can't mix and match – for example, using an Android app on IOS Phone or using an iOS app on a Windows phone.

There are different types of Programming languages used in creating Native Apps like- Java, Python, Swift, Kotlin, C++, Objective-c, and React.

What are the Pros and Cons of a Native App?
Because Native Apps build on Specific Mobile platforms, there are the following pros and cons-

Pros –
1. Faster and better performance
2. Utilize Native Device UI
3 More Optimize Customer Experience
4. Can access device broad features

Cons-
1. Higher cost to maintain
2. Take up space in Device Storage
3. The update must be Downloaded
What is Web App Development?
Web Apps refer to Applications that require Only a Web Browser to be installed on the device. They are not like other Standard App that you have to Download and then Install on your device.

Web Apps are available online on browsers like Google Chrome, Mozilla Firefox, or Safari, and can be used on Multiple devices.

Web Apps include Google Apps, Microsoft 365, online forms, Video Editing, Photo Editing, File conversion, File Scanning, and Email programs such as Gmail, Yahoo, and AOL.

Web apps are designed using HTML5, CSS, JavaScript, Ruby, and similar programming languages used for web work.

What are the Pros and Cons of Web App Development?
Because Web Apps are only available on web browsers, there are the following pros and cons-

Pros-
1. Web-based so performs on all devices
2. Easier to Maintain
3. Users don't run out of data storage
4. Don't need to download updates like Native

Cons-
1. Dependent on Web Browser
2. Need for Internet Connection
3. It May not always integrate with the device hardware
What is Hybrid App Development?
Hybrid apps refer to Web Apps that look and feel like Native Apps. Hybrid Apps might have a home screen app icon, fast performance, responsive design, and work offline but they are web apps that look like native apps.

Hybrid Apps use a mixture of both Web and Native technologies. They are
developed using Ionic, Objective C, Swift, HTML5, and others.
What are the Pros and Cons of Hybrid App Development?
Because Hybrid Apps use a combination of both Native and Web App, there are the following pros and cons-

Pros-
1. Quicker and cheaper to build
2. Load Quickly
3. Less Code to Maintain

Cons-
1. Lacks the power of Native App
2. Slower
3. Certain features might not be usable on the Device